Crazy Scary Holy Fantasy
Akumu no ari-sama wa
Do what ? Do what ? Do what you want to !
Akui no souzou shidai
It's like a game of Peek-a-boo
Asobi ni mo tarinai
Nothing to do, just killing time
Yoka wo mitasu satsui
Nakisakebi osore ononoki nigedashi hirefusu made wa yoteichouwa
Akaku someta te wo furimawashi nani wo egakou ka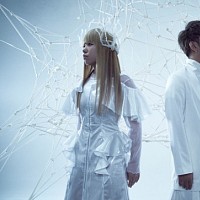 Calling, calling… You're calling me ?
Hello, hello sekai ni gyakusatsu wo
Crazy Scary Holy Fantasy
Akumu no ari-sama wa
Do what ? Do what ? Do what you want to !
Akui no souzou shidai
I just wanna amuse myself
Yokyou nara iranai
Playing like an innocent child
Tada KORE dake de ii no
Te wo tataki koe wo agete warai odori abareru no wa kajou hannou
Iki wo suru you ni shizen touzen ni tada sesshu suru
Crazy Scary Holy Fantasy
Tomaranu itazura wo
Do what ? Do what ? Do what you want to !
Tettei-teki shikousakugo
Hey, look at me. Am I cute ?
You must say "yes". Am I cute… ?
Ubai ubaware kurae kuware ue to shita ni wakareru sakushu genri
Yoshi mo warushi mo naku tada sore ga kotae byoudou deshou ?
That is all
No one, no one feels the same way ?
Hello, hello kyouki to yobu no wa daare ?
Crazy Scary Holy Fantasy
Akumu no ari-sama wa
Do what ? Do what ? Do what you want to !
Watashi no kibun shidai
Akugi shidai
Akui no mama ni